On 14th of December 2017, the awarding ceremony for the winning ideas, emerged through the CIPTEC European crowdsourcing campaign, was held at Thessaloniki. The ceremony took place within the CIPTEC European Workshop on "Social entrepreneurship/Social Innovation in Public Transport", organised by the Aristotle University of Thessaloniki.
The ideas gathered through the campaign were evaluated by both the users of the crowdsourcing platform and an ad-hoc jury committee of experts in the fields of transport and innovation. In particular, during the whole duration of the contest (October 2016 – March 2017), each registered user was able to evaluate the ideas by giving 1 to 5 stars rates. Afterwards, the top ranked ideas were assessed by an experts' committee against their feasibility, utility and innovativeness.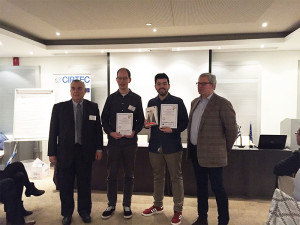 Based on the aforementioned evaluation procedure, the first winning idea is the "BLIMP Bus Lane (Bus Lane with Intermittent Priority)" submitted by Mr. Anastasios Skoufas, an undergraduate engineering student. The BLIMP Bus Lane (Bus Lane with Intermittent Priority) provides an exclusive bus lane whenever needed. More specifically, the bus lane remains open for the general purpose traffic, but when a bus is detected the lane becomes a temporary bus lane. After delivering a short presentation of the concept, the winner received his award from Mr. Ruud van der Ploeg, General Secretary of European Metropolitan Transport Authorities (EMTA), and a tablet, that was offered by the sponsor, MLS Multimedia S.A., a Greek interactive media technology provider.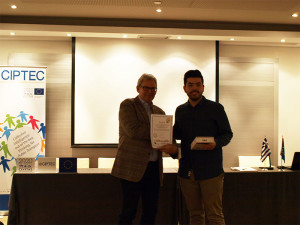 The second ranked idea is the "Incentive for Open Data for all public transport companies", which stresses the significance of providing support and incentives to Public Transport companies in order to share their data with every interested person and party. The initiator of this idea, Mr. Simon Rosseel a software developer in the ICT department of the University college of Kortrijk, being invited by the consortium at the CIPTEC workshop, received his award from Prof. Aristotelis Naniopoulos, the CIPTEC coordinator after presenting briefly his concept to the audience.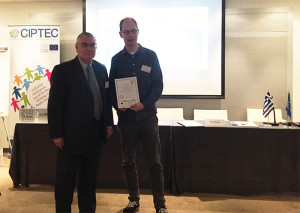 The implementation of such concepts relies upon the willingness of the Public Transport Authorities and Operators who have to become more innovative and positive to novel approaches in order to face the present and future challenges of the urban mobility scene.